Adding a light kit to your ceiling will kill two birds with one stone, cooling experience and illumination in the room with a single fixture. The model can have different light bulbs, dimming abilities and types of controls but Hunter ensures that you get the high quality performance with its fixtures.
If your Hunter model does not contain a light part, you can incorporate one by installing a light kit. Whether you have a fan that contains built-in lights or you add it to the fan later, eventually, you will have to replace the bulbs right?
It is important to choose the right types of replacement bulbs for you Hunter fan so you can enjoy the best lighting with longevity. You can also ask about the ceiling fan bulbs from Hunter professionals.
Choosing the Right Light Bulb for Your Hunter Ceiling Fan
Kindly read this article to know which factors to consider while getting ceiling fan light bulbs to add to your Hunter ceiling fan:
1. Types of Ceiling Fan Light Bulbs
What kind of bulb does a ceiling fan use? The market is replete with different types of ceiling fan bulbs ranging from fluorescent to incandescent and so on. But when you are looking for the latest Hunter ceiling fan designs, you should consider LED bulbs. In 2018, Hunter switched bulb-based light kits to LEDs. If you have a ceiling fan older than 2018, you will have to focus on other types of compatible bulbs.
2. Ceiling Fan Light Bulb Size and Shape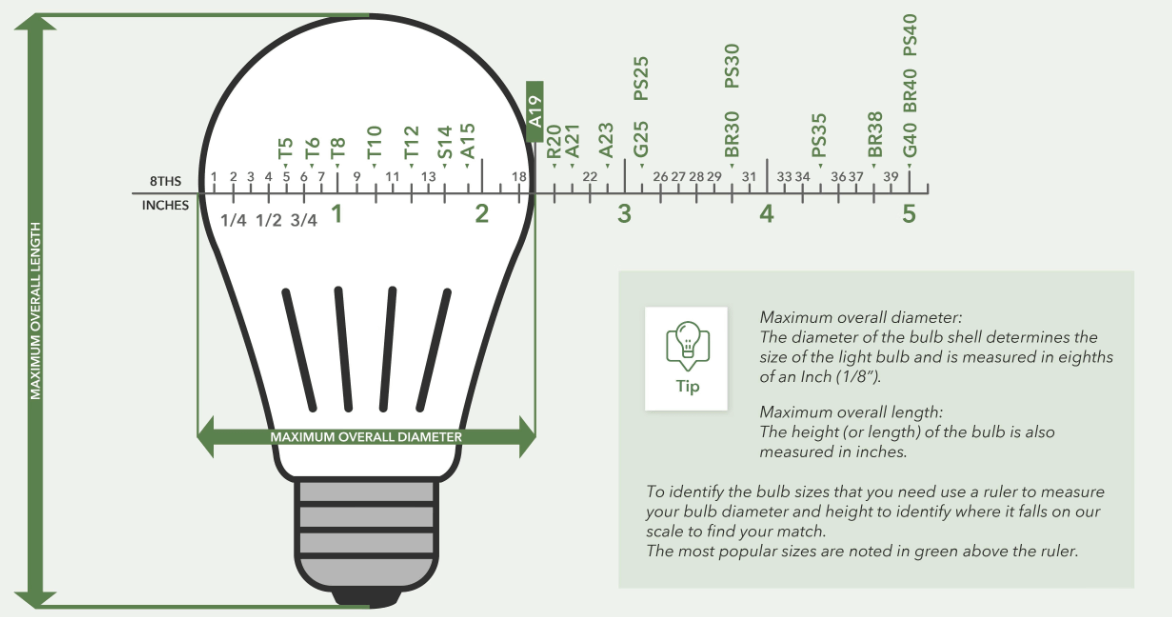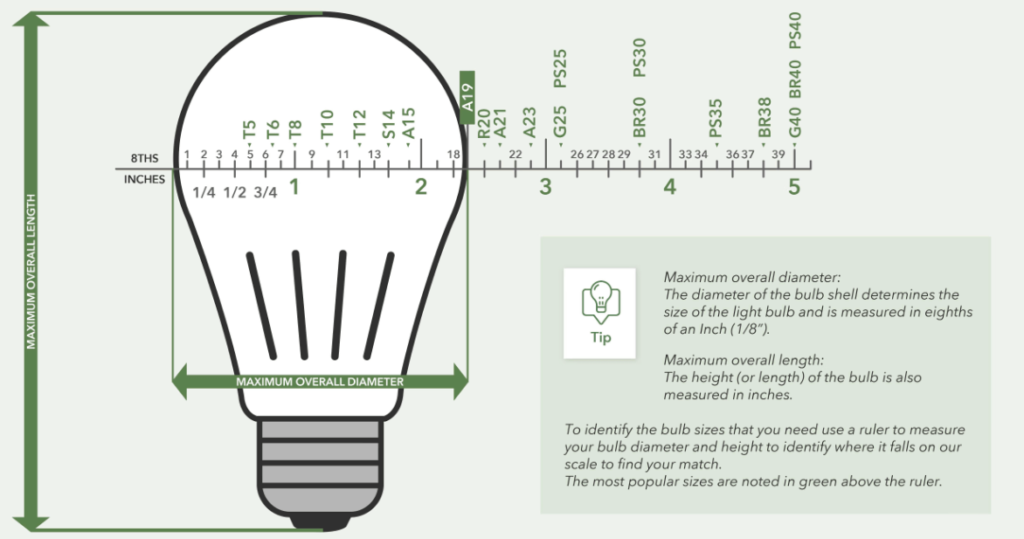 The bulb size of the ceiling fan is based on the mixture of the bulb's shape and diameter and the measurement is done in eight (1/8) of an inch. For instance, if a bulb says A19bulb, here 'A' means the classic, rounded shape and '19' indicates the diameter, which is equivalent to 19/8 or 2.375 inches. The most common bulb on Hunter ceiling fans is A19, but the company also uses other shapes including A15, B10, ST19, T12, G25 and G40.
3. Base/Socket

When it comes to selecting the bases of light bulbs, you will select the one that fits in the socket of the ceiling fan light kit. The 'base' indicates the type of socket and the size of the screw, socket type is indicated by letter/s and screw/contacts are represented by a number/s. after 2018, Hunter has been using bulbs with a medium screw base (E26), where 26 indicates the thread pitch and E is used for the screw base socket. This compatibility standard allows you to get the bulbs in a simple way.
 American ceiling fans use an E26 medium screws base and it is common among them and it also includes Hunter fans, to verify the accurate light bulb, check your specific fixture, especially if your fan is an older one. 
4. Ceiling Fan Light Bulb Wattage
The measurement of the watts is done in order to get the amount of energy the bulb consumes. A light bulb that consumes lower watts needs less energy, which result in low electricity bills. LED ceiling fan bulbs offer an equal amount of light and they use less energy than incandescent bulbs. You have to go through the owner's manual or the votive cover of your fixture in order to determine the maximum ceiling fan bulb watts you can use in your existing model.
5. Light and Color
To identify the brightness of the bulb, Lumens is a parameter being used. Higher lumens mean a brighter light. The package comes with the lumen rating and it is shown next to "lm, " which is an abbreviation of lumens.
The measurement of color temperature depends on Kelvins. For instance, the industry calls the daylight as closest to pure white, which falls in the category of 5000K to 6500K. The higher the Kelvins will be, the bluer and cooler the light will be, on the other hand, a bulb containing a lower Kelvin features a warmer yellow light. 
6. Quality
When it comes to quality, cheap bulbs will save you some money but they will expire soon, resulting in more money. That is why, it is the best decision to get a quality bulb that lasts longer. LEDs will fulfill your need if you are looking for a longer lifespan and energy efficiency, which can prevent you from the headache of bulb replacement too often.
7. Dimmability
You can set the ambiance if you opt for dimmable ceiling fan light bulbs and you can adjust the brightness as per your mood. To set a relaxing evening atmosphere, you can turn it down. Make it brighter when you are trying to read or wake up to see things.
To set your mood, you can adjust the lights using wall controls or handheld remote controls. All Hunter remotes come with a dimming option enabled by default. You can turn on or off the dimming feature whenever you want. Pull chain fans can use the dimming bulbs, the function will not work until the right controller with dimming function is installed.
If you have opted non-dimmable bulbs, if possible, disable the dimming feature from your controller to avoid abnormal things such as flickering.
8. Purpose
Is the lighting fixture on your ceiling fan serving the whole room and it is the primary source of lighting or an addition to other light fixtures? It is wise to determine the aim of the lighting fixture in order to make sure that you get the bulbs that offer your desired color and brightness.
9. Decoration
Whatever the purpose of the light is, if it is a primary lighting or addition, a ceiling fan light gives a sense of decoration to your place. Find lights with light covers or exposed bulbs such as glass shades or glass bowls with compatible style and shape that adds beauty to your home décor.
Best Light Bulbs for Ceiling Fans
To get optimum performance, you need the right bulbs for your fan. the selection of the best bulbs for ceiling fans depends on your preference, fan model, and lighting requirements. Just keep in mind that Hunter fans with light kits are designed with the right number of bulbs and usually they use LEDs, so you will be at peace and you won't have to replace them until they are burned out.
Light Bulb Replacement Tips
Whatever the cause is, whether you want to get the replacement bulbs for your existing hunter ceiling fan, or you want to update your current fan with a new lighting fixture, follow these tips to conclude the above information to get the appropriate bulb for your Hunter fan.
LED bulbs are used in most Hunter fans with light kits.
New light bulbs must fit into the existing bulb socket as the original bulbs.
The wattage of a light bulb must be within the wattage limit listed on the label of the light fixture socket.
Find out the brightness and color temperature you are looking for from light bulbs.
If you are looking for a dimmable lighting fixture, you need to get "dimmable" rated bulbs and along with a dimming capable control installed.
Please Note: The warranty is not applicable to light bulb damage after the ceiling fan installation.
With the help of the above tips, you will be able to select the best replacement bulbs for your Hunter fan. You can also contact Hunter customer support to get more details.
You may also want to know how to change a Hunter fan light bulb after choosing a light bulb for your Hunter fan.