Hampton Bay and Hunter ceiling fans are the two prominent brands on the market and their listings are also available on online stores whenever you decide to buy a ceiling fan. But you might be curious to know which ceiling fan brand is better Hampton Bay or Hunter? This post will allow you to decide and will answer the question arise in your mind when it comes to purchasing a ceiling fan from a new brand.
Quick Comparison: Hunter VS Hampton Bay
Below is a quick comparison of both brands, the comparative study is made keeping in view the thoughts of the buyers when they want to get a new ceiling fan for their space. To get an in-depth analysis, it is better you read this full article to know it.
| | | |
| --- | --- | --- |
| | Hunter | Hampton Bay |
| Price | $ $ | $ |
| Quality | 4 Stars Ratings | 3 Stars Ratings |
| Warranty | Lifetime Motor Warranty | Lifetime Motor Warranty |
| Motor Type | AC & DC Motors | AC Motors only |
BRAND HISTORY
ABOUT HAMPTON BAY CEILING FAN COMPANY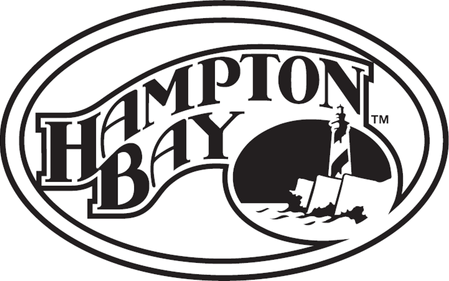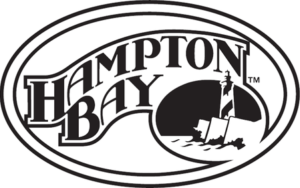 Hampton Bay is not as old as Hunter fan when in terms of business years. Hampton Bay originated in 1986. The brand is owned by Home Depot and it has become one of the leading brands by Home Depot. Hampton Bay not only makes ceiling fans but also produces outdoor furniture as well as lighting. Currently, Hampton Bay does not have an official website.
ABOUT HUNTER CEILING FAN COMPANY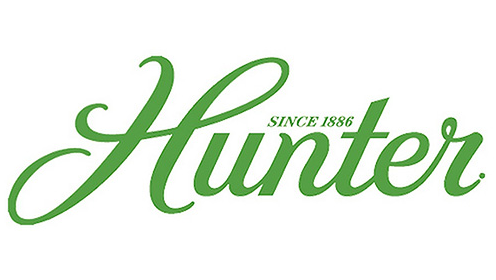 Hunter ceiling fan has been in business for over 135 years now. The brand originated in 1886 and the owners of the brand were father and son, John and James C. Hunter. The company has been working in the market for more than a century now. Hunter Fan company feels pride in its manufacturing, heritage history and industrial designs. The company also adapted itself with the latest fan technology to develop its products. This is the reason why big home improvement stores whether they are online or offline listed the fans of the Hunter brand. In short, you will see the company's fans whenever you visit an outlet where fans are sold.
Price Comparison: Hunter Fans VS Hampton Bay Fans
In a nutshell: Hampton Bay has a collection of the cheapest ceiling fans
BUDGET VS MID-RANGE VS HIGH-END MODELS (3 Categories)
When it comes to comparing the two brands, Hampton Bay vs Hunter, the first point to consider is their price. The pricing of the ceiling fans can be divided into 3 categories which are budget, mid-range and high end.
Budget fans are the cheapest ones in terms of price, the price is as low as $150 and designed with least style and accessories.
When you are looking for a better quality fan, you will go for a mid-range to add value to the product. Mid-range ceiling fans are made from better materials such as higher grade motors as compared with budget fans.
Lastly, high-end ceiling fans are designed keeping in view the latest style and trend for your home, they are made of the highest grade material and the price begins at $500. They are not only stylish but also save the cost of energy and are noiseless in operation.
The price of the ceiling fan depends on its quality, if you are looking for a ceiling fan that lasts for decades, your ideal option will be high-end ceiling fans rather than budget models.
HAMPTON BAY CAN BE CHEAPER BUT IS IT BETTER?
The brand of Hampton Bay contains a lot of budget and mid-range ceiling fans and these models are replete with qualities when we do a comparison of them with Hunter fans. Hampton Bay is a brand of Home Depot and it offers budget-friendly items and you can get additional discounts on them when getting them at Home Depot's sales events. We think that hunter ceiling fans are more costly than Hampton Bay, Hampton Bay is cheaper.
BUILD QUALITY COMPARISON
In a nutshell: Hunter has a collection of more high-quality options
Considering the previous discussion, Hunter fans and Hampton Bay fans are similar at a budget price level. The difference in the build quality can be prominent at the higher price point, Hampton Bay offers a lot of its models at $200 and restricts the models that come with high-quality material and technologies such as DC motors, heavy gauge metal and reinforced resin etc. Keeping in view the build quality of ceiling fan, you will observe that Hunter has high-quality options for your home and its style and the variety is available in mid-range to high-end price.
Warranty Comparison
In a nutshell: Both contain the same warranties
Both brands Hampton Bay and Hunter offer limited lifetime motor warranty on their units. Hampton Bay is the brand of Home Depot and the warranty can be claimed on Home Depot for replacement or repairs.
Ceiling Fan Motor Comparison
In a nutshell: Hunter is equipped with better motors
Hunter Ceiling Fans: Hunter is generating ceiling fans with its WhisperWind motors and marking them with their trademark. AC motor generates powerful air movement but they are noiseless while working and ideal for bedrooms and living rooms. Hunter is also making newer DC motors into the newer and high-end models. In comparison, DC motors are far better as compared to AC motors, they are energy efficient, quiet and powerful in terms of performance.
Hampton Bay Ceiling Fans: Hampton Bay has traditional AC motors in their ceiling fan models. The price of these motors is cheaper and they are also energy efficient but they do not offer cutting-edge technology. Hampton Bay contains a few ceiling fans which are equipped with DC motors. Since the DC motor technology is more costly than AC motors, so they added them to their mid-range models.
The motor selection of Hunter is better than Hampton Bay. Hunter has won this category by using DC motor technology in their ceiling fans.
Hunter vs Hampton Bay: Installation and Accessories
In a nutshell: Both have the same installation options and accessories
Frequently Asked Questions
Which ceiling fan brand is better for sloped or vaulted ceilings?
Both brands Hunter and Hampton Bay are available in multi-angle installation options even in the lowest priced units. Most ceiling fans by Hampton Bay are available in tri-mount installation kits including standard, angled and close-to-ceiling installations.
Hunter also offers a similar three-position mounting system that is introduced by them in their various models. We highly recommend that you have a look at the specs of the ceiling fan to make sure it has an angled installation kit before you make a decision of buying it.
Which of these brands is better for Low ceilings?
Hunter and Hampton Bay, both of them contain low-profile ceiling fans for low ceilings and rooms. Hunter does have a better quality budget and the quality of the units is also outstanding. However, if you want the cheapest deal for a flush mount ceiling fan, Hampton Bay is an ideal option in terms of pricing.
Which of these brands is better for tall ceilings?
None of these brands is better. Most ceiling fans do not support downrods to make them ideal for high ceilings and you have to buy them separately. When it comes to getting a ceiling fan by Hampton Bay, you can get the appropriate downrod from the store while purchasing the fan. Hunter downrods are also available in the stores when you go shopping for them.
Which ceiling fan brand has a remote?
Hunter and Hampton Bay offer handheld and wall remotes with certain ceiling fan items. The availability of the remote depends on the model. The accessories you will be getting after buying a fan from any of these brands depend on the price tag of that specific fan. So, when you look for a fan, just remember that cheap models do not offer accessories like remote control and often use pull chains to operate it. See the description of the fan before you purchase your ceiling fan.
Conclusion: Hunter Fans vs Hampton Bay Fans
In the budget price range, the quality of both brands is almost the same between Hunter and Hampton Bay. If you will purchase a fan under $150, especially under $100, the difference between the energy efficiency, capacity and quality will not be too much. However, when it comes to selecting a unit between mid-range and high-end ceiling fans, Hunter has reliable and quieter ceiling fans. The brand of Hunter also has a variety of ceiling fans in terms of uniqueness. You can add something unique by choosing from Hunter.